The Legacy Gallery
Grand Opening November 7th • 6 -8 pm
This competition will feature the finest in representational figurative, portrait,
still life, floral, landscape, interior, wildlife, and western themes. The competition is open to
all artists. The Salon will be hosted by The Legacy Gallery in Scottsdale, AZ and will
utilize the 10,000 sq. ft. upper level of the gallery.
SMALL WORKS GREAT WONDERS - NATIONAL COWBOY & WESTERN HERITAGE MUSEUM
A One-Night Art Event
November 15, 2013
Small Works, Great Wonders Winter Art Sale

Enjoy this National Cowboy & Western Heritage Museum reception and fundraiser featuring works from Prix de West and other select artists. The sale will feature smaller Western works of art. Art available for purchase will remain on display through December 1, 2013.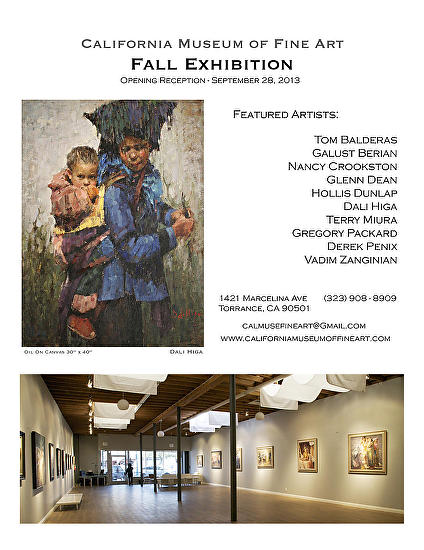 AMERICAN IMPRESSIONIST SOCIETY
NATIONAL JURIED EXHIBITION
23rd Annual Invitational
Small Works Show
Featuring An Outstanding Selection of Smaller Sized Works
by Over 90 Leading Artists
Preview: October 11th - 19th
Reception and Fixed Price Sale - Saturday, Oct. 19th 5:30-8pm





NATIONAL OIL AND ACRYLIC PAINTERS SOCIETY

BEST OF AMERICA ART EXHIBITION


Saturday, October 12, 6:00 pm to 9:00 pmLocation:Dunnegan Gallery of Art, 511 N. Pike Street, Bolivar, MO 65613
Limited Seating! Make Your Reservations Now!
Reservations are required to attend this event.
The gallery will open at 5:00 PM for the dinner guestsfor an exclusive preview and sale of the exhibit.Artists, art collectors, city officials, NOAPS fans and their guests are welcomed to make reservations
Buffet dinner including salad, main course, and dessert$35 per person
RSVP by October 1st, 2013
Reservations and payment can be made through our website (Buttons Bellow)
or mail this form with a check paymentto the Dunnegan Gallery of Art
Address: 511 N. Pike Street, Bolivar, MO 65613 (RSVP: By October 1st – Payment received by October 6, 2013)
If you cannot attend the Awards Banquet, the exhibition will open to the public on Sunday, October 13, at 2PM



Southwind Art Gallery
3074 SW 29th St
Topeka, KS 66614
Sept. 6 - Oct. 26, 2013
The OPA 2013 Western Exhibition
will be held at the Southwind Art Gallery, in Topeka, KS
Opening weekend is Sept. 6 - Sept. 8, 2013
Southwind Art Gallery
OPA's 2013 Western Regional Exhibition is being hosted by SouthWind Art Gallery from September 6 through October 26, 2013. The opening ceremony scheduled for September 6, from 5:30 P.M. to 8:30 P.M., with the awards presentation at 7:00 P.M.
The capitol city of Topeka has been rated one of the 10 best cities for the next decade by Kiplinger Personal Finance magazine and offers a diversity of things to do; from viewing over 7,000 rose bushes in the Reinisch Rose Garden in Gage Park to visiting historic Old Prairie Town to touring the Hallmark Card factory.
Comment on or Share this Article →