Antique Market in Nice, France 24x30
American Impressionist Society 14th National Juried Exhibition
3rd Place
________________________________________________________________________
Laumeister

Fine 2013 Art Competition
SECOND PLACE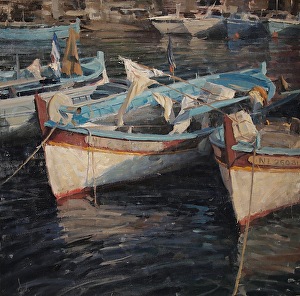 DATES: July 27 - September 22, 2013
Artists from around the country and the world submitted work to be included in our fifth annual fine art competition. The show was juried by Peter Trippi, Editor-In-Chief of Fine Art Connoisseur. $7,000 in awards have been announced as follows:
1st Place: Gwendolyn Stine Peace of Strength
2nd Place: Derek Penix Fishing Boats Docked, Cap Ferrat
3rd Place: Mary Taylor Excaliber
Honorable Mentions: Carol Arnold Helping Hands; Bach Del-Bouree The Good Life; Fran Sweet Trophy Bighorn; David Tutwiler Drama of the Northwest.
Congratulations to all!
Representational artwork will be on view and for sale at the Center through the mid-September with images up shortly.
_______________________________________________________________________________________________
OIL PAINTERS OF AMERICA
SPRING 2013 ONLINE SHOWCASE
FIRST PLACE
"Antique Market in Nice, France"
Oil Painters of America Spring Online Showcase "First Place" winner (2013)
Bold Brush 3rd Place winner (March 2013)
Ray Mar: Finalist (March 2013)
---
Finalist
Award Sponsor: RayMar Art February 2013
Judge: Nancy Guzik
Fishing Boat docked in Cap Ferrat, France
16 x 16 Oil
Judge's Comments: This is not just a boat in water. When I looked closer, I was amazed at how I enjoyed the drawing. Drawing is one of our tools we get to use and Derek uses drawing in many ways, and yet keeps this painting very painterly. This boat has volume! You could step inside and go for a ride! Derek also designs the light and dark values, along with capturing the water, great color and light with great skill. - Nancy Guzik
---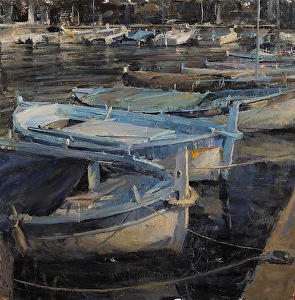 "Old Harbor in Cap Ferrat"
$2,500 3rd Place
This painting, "Old Harbor in Cap Ferrat" by Derek Penix to me is the essence of the 19th c. "turn-of-the-century" look in painting. This piece reminds me of complex personalities of many of the French Impressionists turned into one. It's like Claude Monet, Pissarro, Degas... on "STEROIDS". The abstract quality of all the receding boats in the background are understood because of the "association factor".....we know they are boats because of the literalness of the ones in the foreground sitting on the water...your mind will fill in the blanks. I love the abstract quality of the dark cover in the lower boat which duplicates the water value and keeps you from being "hung up" on the first boat...it's only an introduction to the second boat that is fully disclosed. The concrete wharf is a great design tool to move you up through the boats to get to the ones at the back. The color palette is absolutely stunning because of the sophistication and control of chroma. The hot orange stripe on the second boat with a little more chroma in the blue is wonderfully complimented by the rest of the tonal color passages. Watch the blue continue to recede back through the boats and end up as a cover in the back boats. You don't usually see people paint water this color because the left side of their brain tells them, "It's got to be blue!" This is a museum piece, if I've ever seen one. And I wish it were in my own collection!!! Derek is a diamond in the rough and a fast approaching star! You're awesome, baby!!! Congratulations Derek! - Charles Warren Mundy
---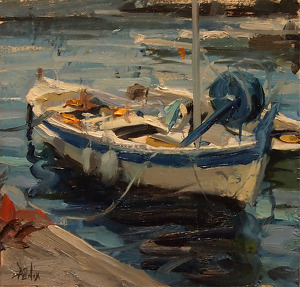 Finalist
Award Sponsor: RayMar Art
Judge: Tony Pro
Docked by Derek Penix
8 x 8 Oil
Judge's Comments: This little gem caught my eye right off the bat. It is so freshly painted and confident. I can tell that Derek has painted from life and knows his medium and this subject speaks to the freshness it was painted in. This is the reason to paint alla prima and Derek's confident strokes really pay off for this statement. - Tony Pro
---
Finalist


Award Sponsor: RayMar Art
Judge: John Burton
Antique Market in France by Derek Penix
20 x 24 Oil
Judge's Comments: This painting has such wonderful atmosphere. I enjoyed the movement around the painting created by the variety size and shape of the brushwork. There is a great sense of light created by the shadow planes being lit by the blue sky adding to the beauty of the orange complimentary umbrella. This painting makes me want to get outside and paint tomorrow. - John Burton